In Colorado What Exactly IS Unsupervised Probation?
By H. Michael Steinberg Colorado Probation Violation Criminal Defense Lawyer – Email The Author at [email protected]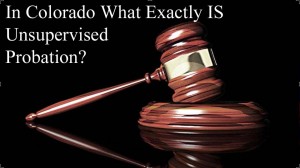 In Colorado What Exactly IS Unsupervised Probation? – There are three kinds of probation in my opinion in Colorado. Diversion types of probation (LINK) https://www.colorado-probation-violation-lawyer.com/understanding-the-colorado-plea-bargain-of-the-deferred-prosecution-adult-pre-trial-diversion-program-under-18-13-101 where a plea is never entered and the defendant receives supervision and "rehabilitation" through the district attorney's office.
The primary goal of probation – from the perspective of the court's is to supervise offenders in a manner that reduces the likelihood that they will commit a new criminal offense. It's that simple. Once you understand that principle – the rest makes sense.
Two Types Of Conditions of Probation – General and Specific
There are two types of conditions: General conditions that apply to all offenders, such as obeying all laws, abstaining from alcohol and drug use, maintaining employment, and reporting regularly to the probation or parole officer. General conditions of supervision vary among the Colorado county and city courts states and can differ among the different court districts within a state.
Special conditions are directed toward individual offenders and the risks they pose, such as requirements to attend treatment, submit to drug testing, avoid certain places such as bars or in sex crime cases for example – areas where children congregate, or stay away from certain people such as prior victims
General and – or – special conditions are intended to help monitor those offenders placed on probation and to keep them away from "risky situations." The idea is to link probationers with the resources that will reduce the chances of the commission of a new crime.
Conditions set out the parameters for the person on probation. They define the range of expectations that, should the offender fail to comply, can result in punishment in the community or even a return to jail or prison.
Colorado Supervised Probation
Supervised Probation – which is the standard and most recognized form – where the defendant is supervised by a Colorado state or municipal "PO" or a privately contracted company such as RMOMS in Colorado. The terms and conditions of supervised probation are specific to the crime for which you are placed on probation along with the standard terms and conditions imposed in every probation based case.
Standard supervised probation standard terms are usually:
No contact any other felons;
Do not possess any type of weapon, including a knife;
Submit to search and seizure of property or vehicle at any time;
Report to probation officer as directed;
Permit home and employment visits as needed;
Report any change of address to your probation officer;
Do not leave the state without written permission from your probation officer;
Seek and maintain employment and report any change of employment status to your probation officer;
Do not use, sell or possess alcohol or illegal drugs; use any prescription drugs only with a valid prescription;
Submit to urinalysis or breath testing if ordered;
Attend counseling as directed; and
Have no contact with the victim in the case without court permission.
Special Terms and Conditions Of Probation
So called "special terms and conditions of probation" are crime specific and apply to sex offenders, domestic violence cases, economic crime cases, gang cases, white collar offenders, and drug cases.
In Colorado What Exactly IS Unsupervised Probation?  Colorado Unsupervised Probation
Unsupervised probation is usually ordered for defendants who have committed very minor non- violent misdemeanors. Unsupervised probation is a sentence commonly imposed for lesser criminal offenses and, sometimes in more serious cases, for a first time offender.
Cities and counties more and more are relying on unsupervised probation because of a lack of probation staff and a rapidly growing number of new probation offenders.
Unsupervised probation is like criminal triage and is designed for very large probation caseloads considered overall "low risk."
Unsupervised probation is different.
Typically, unsupervised probation is used only for minor offenses and for offenders whose class of offenses, prior record or conviction level make unsupervised probation the best option for them and the State of Colorado.  Unsupervised probation often consists of self reporting, mail-in programs, with the DA or the judge's clerk's monitoring compliance with all conditions of the sentence. This monitoring usually includes a final review of the defendant's criminal history.
In unsupervised probation there is no direct supervision by an officer or probation department. If there are conditions of the unsupervised probation – the probationer is expected to complete those conditions with no involvement or assistance of a probation officer.
The typical six months to one year of unsupervised probation might contain the requirement that community service hours be completed, court costs or fines be paid, or classes and or treatment be completed and proof of same provided directly to the judge's clerk.
BUT if the terms of unsupervised probation are not completed, like regular probation – the court and/or the probation department will file a petition to revoke probation.  If you unsupervised probation is revoked and you could face part or all of your sentence for your original charge.
The Transition From Supervised To Unsupervised Probation
The literature in this area does not support the idea that more supervision means less criminal behavior. Exactly the opposite is true – the literature indicates that the level of supervision has little influence on the criminal behavior of offenders. Increased supervision alone then does not curb criminal behavior. For that reason alone – there is strong support to argue that – over time with proof of careful compliance with the terms and conditions of probation – a person on supervised probation should be allowed to transition to the less costly and more manageable "unsupervised probation."
In Colorado What Exactly IS Unsupervised Probation?
ABOUT THE AUTHOR: H. Michael Steinberg – Email The Author – A Denver Colorado Probation Violation Criminal Defense Lawyer – or call his office at 303-627-7777 during business hours – or call his cell if you cannot wait and need his immediate assistance – 720-220-2277.
If you are charged with A Colorado crime or you have questions about the topic – In Colorado What Exactly IS Unsupervised Probation? –  please call our office. The Law Offices of H. Michael Steinberg, in Denver, Colorado, provide criminal defense clients with effective, efficient, intelligent and strong legal advocacy. We can educate you and help you navigate the stressful and complex legal process related to your criminal defense issue.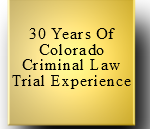 H. Michael Steinberg, is a Denver, Colorado criminal defense lawyer with over 30 years of day to day courtroom experience – specializing in Colorado Criminal Law along the Front Range. He will provide you with a free initial case consultation to evaluate your legal issues and to answer your questions with an honest assessment of your options. Remember, it costs NOTHING to discuss your case. Call now for an immediate free phone consultation.
Helping Clients To Make Informed Decisions In the Defense of Colorado Criminal Cases.
Contact A Lawyer with Three Decades of Experience as a Denver Criminal Attorney at The Steinberg Colorado Criminal Defense Law Firm today.
Colorado Defense Lawyer H. Michael Steinberg provides solid criminal defense for clients throughout the Front Range of Colorado – including the City and County courts of Adams County, Arapahoe County, City and County of Boulder, City and County of Broomfield, City and County of Denver, Douglas County, El Paso County – Colorado Springs, Gilpin County, Jefferson County, Larimer County, and Weld County,…. and all the other cities and counties of Colorado along the I-25 Corridor… on cases involving … In Colorado What Exactly IS Unsupervised Probation?
Other Articles of Interest:
If you found the information provided on this webpage to be helpful, please click my Plus+1 button so that others may also find it.
___________________________
H. Michael Steinberg Esq.
Attorney and Counselor at Law
The Colorado Criminal Defense Law Firm of H. Michael Steinberg
A Denver, Colorado Lawyer Focused Exclusively On
Colorado Criminal Law For Over 30 Years.

DTC Quadrant Building
5445 DTC Parkway, Penthouse 4
Greenwood Village, Colorado, 80111

Main: 303.627.7777
Cell: 720.220.2277
24/7 Pager: 303.543.4433
FAX (Toll Free): 1.877.533.6276

Always investigate a lawyer's qualifications and experience before making a
decision to retain that lawyer or, for that matter, any professional ...in any field.