Denver Colorado Probation Early Termination Issues – Why Terminate Probation Early?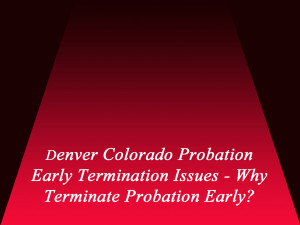 By H. Michael Steinberg Colorado Probation Violation – Termination Criminal Defense Lawyer – Email the Author at [email protected]
Denver Colorado Probation Early Termination Issues – Why Terminate Probation Early? The early termination of probation is not only a good idea for you – it's a good idea for the state of Colorado.  If a person does not belong on probation – releasing them early frees up resources better utilized by those who actually need to be supervised.
Probation can be difficult.  Conditions and restrictions placed on you freedom can be extremely burdensome on your day-to-day life.  Remember this – early termination of probation (with the exception of deferred judgments) is totally within a judge's discretion.. The more your application appeals to your specific judge's sensibilities, the more likely it is that you will win your motion
What follows may help you to find a way to your former life more quickly.
Why You Should Seek Early Termination Of Probation Supervision
Ending the stress of being "under supervision"
Removing the possibility of future sanctions which can include jail, prison, or more probation.
Stop the payment of probation supervision fees and other expenses associated with probation.
End restrictions on movement and travel.
End barriers to employment.
A Closer Look At Setting You Up To End Probation Supervision Early
First – Make Certain To Comply With All Conditions of Your Probation Sentence
Work with your probation officer (PO) if you have one, they are in the best position to help you achieve early termination of probation. Make certain you have complied with ALL of the conditions of probation. If a probation officer recommends early termination of probation – there is no better ally to achieve this in the criminal justice system.
Wait Until You Are AT LEAST HALFWAY Done With Your Probation Sentence
Most judges will not entertain the possibility of the early terminate your probation before you have completed at least half of your sentence. While not ALWAYS the case – it is usually true. You do not want an adverse ruling by seeking early termination too early and too often. Your motion should acknowledge you have waited until you had served at least half of your sentence to send the message to the judge that you understand that probation means not only finishing the conditions of your probation – but making certain you have committed no further crimes while you have been under the Court's supervision.
On The Other Hand – Seek The Early Terminate Probation As Soon As Possible Once You Have Reached The Halfway Mark
There are risks to remaining under the supervision of the probation department. Any technical violation such as a hot urinalysis can mean – not only a revocation of probation and loss of early termination of probation – but possibly receiving a punitive sanction such as jail.
Summary So Far:
You are more likely to be successful in your bid to terminate your Denver Colorado probation sentence early if:
You have not violated your probation in any way;

You have completed all requirements of your probation (e.g. paid all fines and restitution, completed all therapy and other classes, completion of public service hours; and satisfying any other requirements that the court imposed in connection with your probation sentence.
You are at least halfway through the probation period (e.g. you have completed 1 1/2 years of a 3 year probation term).

Know Your probation officer – (if you have a good relationship with him or her) should tell you if you have a chance at early termination. Judges are often reluctant to terminate probation early – even when you have met the conditions of probation, without the recommendation of the PO.
Some Reasons Why A Judge May Reject Your Bid For Early Termination of Probation –
The nature of the crime you have committed and the seriousness of the conduct that led to your conviction,
The length and nature of your criminal history,
Whether the DA – prosecutor will object, agree or take no position on your motion,
If there is a victim – whether they object, agree or take no position,
The actual hardships on you and – or your family while on probation – such as loss of obtaining gainful employment, receiving a promotion, travel for work or to assist family who need your help out of state, loss of a loan or obtaining any other type of meaningful benefit such as entering the armed services.
Some Other Considerations – Questions
Is the case appearing on criminal background checks?
If your case is eligible to be sealed under Colorado law – the earlier you terminate probation – the sooner you can apply to seal your case. Your criminal record may impact obtaining employment in license based occupations such as schoolteacher, nurse, or similar caretaker occupations.
A case that has been dismissed – such as at the end of a deferred judgment and sentence – will show as terminated but will still show on your criminal history unless it is seal – expunged.
Will I Win The Motion For Early Termination Of Probation?
It is impossible to predict – but if your ducks are lined up your chances of success are good. The more supporting evidence that you provide to the judge as to how you have changed, the greater your chances. The faster you comply with the conditions of your probation, the better your chances become. After you have passed the 50% mark – the judge will take a look at your criminal history (if any), your age, seriousness of the offense, your specific needs for relief from probation, your behavior while on probation, the potential benefit to society by removing you from the probation roles, and any and all other relevant mitigating and/or aggravating factors.
The time line for this process can be as short as one or two months or as long as three to four months, depending on the seriousness of your case – the requirement of victim input under Colorado's victim bill of rights, the judge's workload, whether there are any objections from the DA or the victim, and issues surrounding the nature of your case – such as the political "climate" of your crime at the time of the request.
Denver Colorado Probation Early Termination Issues – Why Terminate Probation Early?
The Steinberg Colorado Criminal Defense Law Firm can also assist clients with the early termination of probation if they are qualified. H. Michael has focused on Colorado criminal law for over three decades and gives his clients the benefit of his extensive knowledge and experience in and out of the courtroom. He has spent his entire career from his days as a young law student in the 80's in Eugene, Oregon to the present -practicing, studying, writing, and living his passion – criminal law. Call him now.
If you found any information I have provided on this web page article helpful please click my Plus+1 button below so that others may also find it.
ABOUT THE AUTHOR: H. Michael Steinberg –Email The Author– A Denver Colorado Probation Violation Criminal Defense Lawyer – or call his office at 303-627-7777 during business hours – or call his cell if you cannot wait and need his immediate assistance – 720-220-2277.
If you are charged with A Colorado crime or you have questions about Denver Colorado Probation Early Termination Issues – Why Terminate Probation Early?, please call our office. The Law Offices of H. Michael Steinberg, in Denver, Colorado, provide criminal defense clients with effective, efficient, intelligent and strong legal advocacy. We can educate you and help you navigate the stressful and complex legal process related to your criminal defense issue.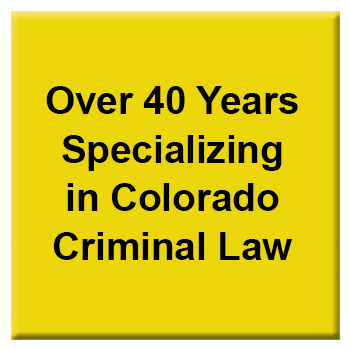 H. Michael Steinberg, is a Denver, Colorado criminal defense lawyer with over 40 years of day to day courtroom experience – specializing in Colorado Criminal Law along the Front Range. He will provide you with a free initial case consultation to evaluate your legal issues and to answer your questions with an honest assessment of your options. Remember, it costs NOTHING to discuss your case. Call now for an immediate free phone consultation.
---
Helping Clients To Make Informed Decisions In the Defense of Colorado Criminal Cases.
Contact A Lawyer with Three Decades of Experience as a Denver Criminal Attorney at The Steinberg Colorado Criminal Defense Law Firm today.
Colorado Defense Lawyer H. Michael Steinberg provides solid criminal defense for clients throughout the Front Range of Colorado – including the City and County courts of Adams County, Arapahoe County, City and County of Boulder, City and County of Broomfield, City and County of Denver, Douglas County, El Paso County – Colorado Springs, Gilpin County, Jefferson County, Larimer County, and Weld County,…. and all the other cities and counties of Colorado along the I-25 Corridor… on cases involving … Denver Colorado Probation Early Termination Issues – Why Terminate Probation Early?
Other Articles of Interest:
If you found the information provided on this webpage to be helpful, please click my Plus+1 button so that others may also find it.
___________________________
H. Michael Steinberg Esq.
Attorney and Counselor at Law
The Colorado Criminal Defense Law Firm of H. Michael Steinberg
A Denver, Colorado Lawyer Focused Exclusively On
Colorado Criminal Law For Over 40 Years.

The Edward Building
8400 East Prentice Ave, Penthouse 1500
Greenwood Village, Colorado, 80111

Main: 303.627.7777
Cell: 720.220.2277
24/7 Pager: 303.543.4433
FAX (Toll Free): 1.877.533.6276

Always investigate a lawyer's qualifications and experience before making a
decision to retain that lawyer or, for that matter, any professional ...in any field.