Colorado Criminal Sentencing Law – How Do I Get A Probation Sentence?
By H. Michael Steinberg – Colorado Probation Violation Lawyer – Email the Author at [email protected]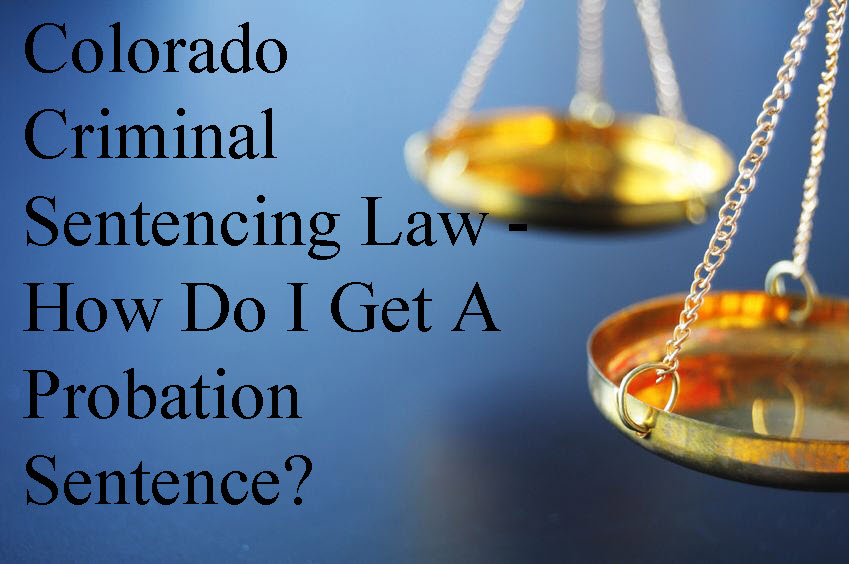 Colorado Criminal Sentencing Law – How Do I Get A Probation Sentence? – A grant of probation in a felony case is not always assured. Probation is an agreement between a defendant and a judge that contains the kind of conditions necessary for the rehabilitation of the offender.
In deciding whether to grant probation the sentencing judge applies his or her own personal criteria which will be known to the experienced local Colorado criminal defense lawyers. As for lawyers less familiar with a particular judge's propensities, those lawyers are left with the criteria for granting probation under the Colorado statute – §18-1.3-203 Criteria for granting probation.
Here is the law:
§ 18-1.3-203. [The] Criteria for granting probation.
(1) The court, subject to the provisions of this title and title 16, C.R.S., and having considered the purposes of sentencing described in section 18-1-102.5 , in its discretion may grant probation to a defendant unless, having regard to the nature and circumstances of the offense and to the history and character of the defendant, it is satisfied that imprisonment is the more appropriate sentence for the protection of the public because:
[HMS – These are the criteria that would persuade a judge NOT to grant probation. You do not want THESE criteria to apply in your case.]
(a) There is undue risk that during a period of probation the defendant will commit another crime; or
(b) The defendant is in need of correctional treatment that can most effectively be provided by a sentence to imprisonment as authorized by section 18-1.3-104 ; or
(c) A sentence to probation will unduly depreciate the seriousness of the defendant's crime or undermine respect for law; or
(d) His or her past criminal record indicates that probation would fail to accomplish its intended purposes; or
(e) The crime, the facts surrounding it, or the defendant's history and character when considered in relation to statewide sentencing practices relating to persons in circumstances substantially similar to those of the defendant do not justify the granting of probation.
[HMS – The following criteria – as applied in your case – SUPPORT a sentence to probation in a sentencing for a Colorado criminal case.]
(2) The following factors, or the converse thereof where appropriate, while not controlling the discretion of the court, shall be accorded weight in making determinations called for by subsection (1) of this section:
(a) The defendant's criminal conduct neither caused nor threatened serious harm to another person or his or her property;
(b) The defendant did not plan or expect that his or her criminal conduct would cause or threaten serious harm to another person or his or her property;
(c) The defendant acted under strong provocation;
(d) There were substantial grounds which, though insufficient to establish a legal defense, tend to excuse or justify the defendant's conduct;
(e) The victim of the defendant's conduct induced or facilitated its commission;
(f) The defendant has made or will make restitution or reparation to the victim of his or her conduct for the damage or injury which was sustained;
(g) The defendant has no history of prior criminal activity or has led a law-abiding life for a substantial period of time before the commission of the present offense;
(h) The defendant's conduct was the result of circumstances unlikely to recur;
(i) The character, history, and attitudes of the defendant indicate that he or she is unlikely to commit another crime;
(j) The defendant is particularly likely to respond affirmatively to probationary treatment;
(k) The imprisonment of the defendant would entail undue hardship to himself or herself or his or her dependents;
(l) The defendant is elderly or in poor health;
(m) The defendant did not abuse a public position of responsibility or trust;
(n) The defendant cooperated with law enforcement authorities by bringing other offenders to justice, or otherwise.
(3) Nothing in this section shall be deemed to require explicit reference to these factors in a pre- sentence report or by the court at sentencing.
The Single Colorado Case That Explains What A Judge Considers In A Sentencing A Defendant to Probation – Logan v. People ex rel. Alamosa County
The 1958 case of Logan v. People ex rel. Alamosa County, 138 Colo. 304, 332 P.2d 897 (1958) is still the standard that is used by judges today to explain their reasoning process in deciding to grant – or to deny – probation in any given case.
Here are several excerpts from the case:
"Whether an applicant should be granted probation involves the exercise of a nice discretion on the part of the trial judge."
"In the exercise of this discretion he necessarily considers three facets of the problem confronting him: the community, the offense, and the offender, in that order. If, in the consideration of these three factors, the trial judge concludes that the applicant is a worthy risk for probation, he has the power to grant it."
"We live in an ordered society. He who may upset the good order and peace of the community, who may not adjust to society, who reveals an established behavior pattern which furnishes strong evidence that he lacks a sense of moral obligation, who is anti-social, and who is likely to be uncooperative, should not be loosed upon the public. From the standpoint of the community, he would make an unworthy risk."
"The crime committed viewed in its setting; the nature and circumstances of the offense, particularly as they furnish a clue to the personality of the offender; whether the offense was violent or nonviolent; and the motives actuating the defendant in committing the offense, are components which the trial court will evaluate when considering the offense as a factor in the question of granting probation"
Colorado Criminal Sentencing Law – How Do I Get A Probation Sentence?
If you found any information I have provided on this web page article helpful please click my Plus+1 button below so that others may also find it.
ABOUT THE AUTHOR: H. Michael Steinberg – Email The Author at [email protected] – A Denver Colorado Probation Violation Criminal Defense Lawyer – or call his office at 303-627-7777 during business hours – or call his cell if you cannot wait and need his immediate assistance – 720-220-2277.
If you are charged with A Colorado crime or you have questions about the topic of this article – Colorado Criminal Sentencing Law – How Do I Get A Probation Sentence?, please call our office. The Law Offices of H. Michael Steinberg, in Denver, Colorado, provide criminal defense clients with effective, efficient, intelligent and strong legal advocacy. We can educate you and help you navigate the stressful and complex legal process related to your criminal defense issue.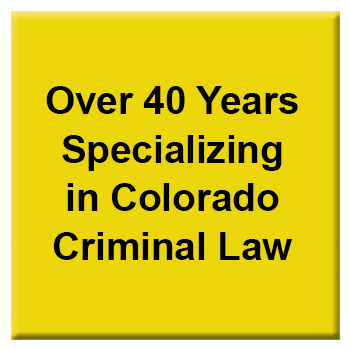 H. Michael Steinberg, is a Denver, Colorado criminal defense lawyer with over 40 years of day to day courtroom experience – specializing in Colorado Criminal Law along the Front Range. He will provide you with a free initial case consultation to evaluate your legal issues and to answer your questions with an honest assessment of your options. Remember, it costs NOTHING to discuss your case. Call now for an immediate free phone consultation.

Helping Clients To Make Informed Decisions In the Defense of Colorado Criminal Cases.
Contact A Lawyer with Three Decades of Experience as a Denver Criminal Attorney at The Steinberg Colorado Criminal Defense Law Firm today.
Colorado Defense Lawyer H. Michael Steinberg provides solid criminal defense for clients throughout the Front Range of Colorado – including the City and County courts of Adams County, Arapahoe County, City and County of Boulder, City and County of Broomfield, City and County of Denver, Douglas County, El Paso County – Colorado Springs, Gilpin County, Jefferson County, Larimer County, and Weld County,…. and all the other cities and counties of Colorado along the I-25 Corridor… on cases involving the subject of this article – Colorado Criminal Sentencing Law – How Do I Get A Probation Sentence?
Other Articles of Interest:
If you found the information provided on this webpage to be helpful, please click my Plus+1 button so that others may also find it.
___________________________
H. Michael Steinberg Esq.
Attorney and Counselor at Law
The Colorado Criminal Defense Law Firm of H. Michael Steinberg
A Denver, Colorado Lawyer Focused Exclusively On
Colorado Criminal Law For Over 40 Years.

The Edward Building
8400 East Prentice Ave, Penthouse 1500
Greenwood Village, Colorado, 80111

Main: 303.627.7777
Cell: 720.220.2277
24/7 Pager: 303.543.4433
FAX (Toll Free): 1.877.533.6276

Always investigate a lawyer's qualifications and experience before making a
decision to retain that lawyer or, for that matter, any professional ...in any field.