By H. Michael Steinberg – Colorado Criminal Probation Violation Defense Lawyer Attorney 
Colorado Probation Violation Tip – Why Making Even Small Restitution Payments On Probation Makes Sense – Advising my clients when they are placed on probation always includes the warning that – if you find yourself unable to make the full monthly payment of restitution – try to arrange through your probation officer to pay something…to make a good faith effort tpo make even minimal payments.
---
The Special Conditions of Probation Include Restitution – The Amount Ordered Can Be Modified
In Colorado an order compelling the payment of restitution is court-ordered as a condition of probation. Restitution is ordered in many contexts – it is ordered to compensate for damaging property, inflicting injury, or stealing money or valuables. The monthly amount ordered to be paid at sentencing is not carved into stone. It can be modified.
In terms of criminal court orders for probation, the failure to pay restitution in one of the most common reasons for a probation violation…. do not put your head in the sand.. If you are not making your payments seek a modification of your restitution payment by filing a motion and asking for a hearing.
Colorado Probation Violation Tip – Why Making Even Small Restitution Payments On Probation Makes Sense
It is not unusual to have problems finding or continuing employment when you have been convicted of a crime in Colorado. Financial problems and non-payment of restitution despite your best efforts means you will be facing a probation violation. If you are proactive foe example – filing a motion for modification of restitution – going to the hearing and proving to the judge you do not have the ability to pay, you could avoid the entire probation violation process and the possible punishments that follow a violation of probation.
By reducing the monthly payment (NOT the overall restitution amount), you may be able to sidestep the probation violation by reducing the minimum monthly amount so that you can afford your payments.
Making Good Faith Payments 
As a criminal defense attorney who practices exclusively in Denver and the Front Range of Colorado, I assist those in this situation and find that probation violations – some of the most common offenses that come my way – can be avoided using some common sense.
Probation, while better than jail or the department of correction, is tough to complete.  Being proactive just makes sense. Technical violations are taken seriously. My goal ia always – when defending clients charged with probation violations – is to get the violation dismissed and get the client back on track and on probation.
If the Colorado Probation Violation Is For Nonpayment of Restitution:
IF I can persuade the DA and the judge that my client was "doing the best he could" by making even small monthly payments – this good faith effort can make all the difference in getting the DA and the judge to hold the violation "in abeyance," which means that the judge can suspend the violation hearing to give you the time to help rectify the violation.
This may mean more time for you to pay your restitution, or, for example, more time to complete your community hours or classes. This "second chance," may mean everything to you and a great second chance" and the opportunity to get prove your good faith.
Colorado Probation Violation Tip – Why Making Even Small Restitution Payments On Probation Makes Sense
ABOUT THE AUTHOR: H. Michael Steinberg – Email The Author  – A Denver Colorado Probation Criminal Defense Lawyer – or call his office at 303-627-7777 during business hours – or call his cell if you cannot wait and need his immediate assistance – 720-227-2277.
If you are charged with A Colorado crime or you have questions about Colorado Probation Violations, please call our office. The Law Offices of H. Michael Steinberg, in Denver, Colorado, provide criminal defense clients with effective, efficient, intelligent and strong legal advocacy. We can educate you and help you navigate the stressful and complex legal process related to your criminal defense issue.
H. Michael Steinberg, is a Denver, Colorado criminal defense lawyer with over 30 years of day to day courtroom experience –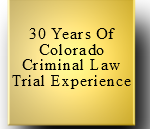 specializing in Colorado Criminal Law along the Front Range.  He will provide you with a free initial case consultation to evaluate your legal issues and to answer your questions with an honest assessment of your options. Remember, it costs NOTHING to discuss your case.  Call now for an immediate free phone consultation.
Helping Clients To Make Informed Decisions In the Defense of Colorado Criminal Cases.
Contact A Lawyer With Three Decades of Experience as a Denver Criminal Attorney at The Steinberg Colorado Criminal Defense Law Firm Today.
Colorado Defense Lawyer H. Michael Steinberg provides solid criminal defense for clients throughout the Front Range of Colorado – including the City and County courts of Adams County, Arapahoe County, City and County of Boulder, City and County of Broomfield, City and County of Denver, Douglas County, El Paso County – Colorado Springs, Gilpin County, Jefferson County, Larimer County, and Weld County,…. and all the other cities and counties of Colorado along the I-25 Corridor…on cases involving …Colorado Probation Violation Tip – Why Making Even Small Restitution Payments On Probation Makes Sense.