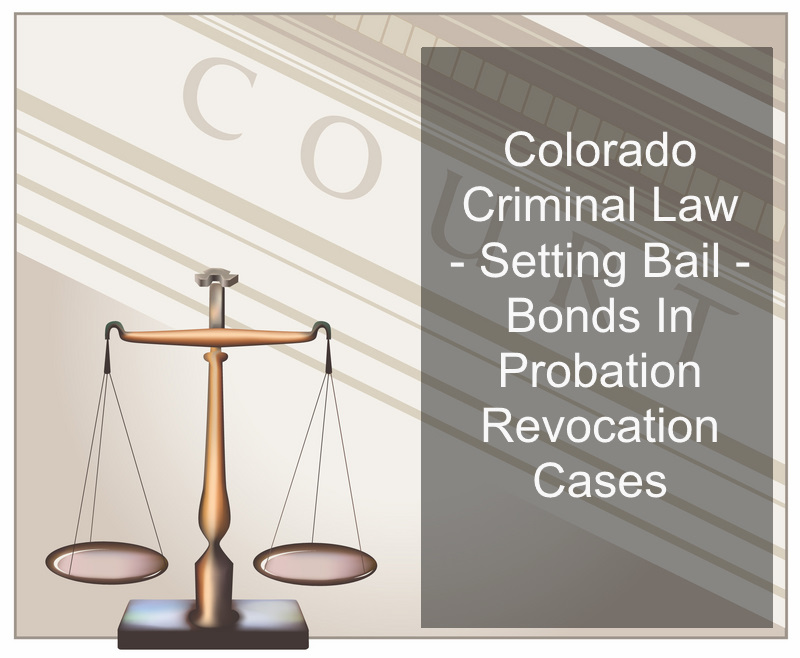 By H. Michael Steinberg Colorado Probation Violation Criminal Defense Lawyer – Attorney
Colorado Criminal Law – Setting Bail – Bonds In Probation Revocation Cases – After a recent Colorado Court of Appeals case, the message to Colorado Judges is this – you now have the right to deny bail after an arrest for a violation of probation.
While a Judge always has the right to deny you bond the right when you have been convicted by a jury, until very recently, it was the practice of Colorado Judges to grant a person bond when facing the a probation violation hearing.
In People v. Johnson, 2017COA97, decided on July 13, 2017, the Colorado Court of Appeals weighed in on the issue.
Here is the ruling of the Court:
The Court of Appeals announced a new rule that a Defendant awaiting adjudication of a petition to revoke probation or a deferred judgment is subject to section 16-4-201 (bond "after conviction") because he has been convicted of the underlying offense for which he received a sentence of probation or a deferred judgment.
A Brief Factual History Of Johnson
Johnson was on probation for two cases when he was charged with two new crimes – robbery and homicide. The Judge on the new case set his bond at $75,000.00 but he was held on a warrant for violation of probation because of the new case.
The Judge in the probation violation case denied Johnson bond even though bail was granted on the new charges. Johnson appealed.
The Analysis – Setting Bail In Colorado Probation Violation Cases
Colorado law establishes two classes of bail bond situations – pre-conviction and post-conviction
Category 1 – Pre-Conviction – Judges set bond for persons who have been charged with crimes and are awaiting trial or other disposition of their case. A conviction has not entered in these cases and the Defendant is presumed to be innocent.
Category 2- Post-Conviction – In this category of cases, which now include probation violation cases, the Defendant has pled guilty and they have been sentenced to probation or a deferred judgment. While a proceeding for violation of probation or the deferred judgement was previously viewed as another matter deserving of some legal protections – (see below) – the Colorado Courts view the proceeding as an extension of the original case.
The presumption of innocence is waived after a plea and sentencing occurs and many of the fundamental rights that are accorded to the first category of Defendants are lost. But even with the loss of those rights, it was previously believed that Defendant's were accorded the right to post bond.
Court Decides That Probation Revocation Cases Address Whether The Original Sentence Is "Still Appropriate"
The Colorado Court of Appeals focused on the theory that probation revocations and revocation of deferred judgments proceedings are focused on whether the sentence that the Colorado Court originally imposed is still appropriate.
The protections of the Colorado Constitution which includes the words "shall be bailable"
(Colorado Constitution article II, section 19(1)) "gives the criminally accused the right to a bail bond, pending adjudication of the charges against him . . . ."
The roots of the "shall be bailable" language derives from the presumption of innocence.
In the Court's words"
The "traditional right to freedom before conviction permits the unhampered preparation of a defense, and serves to prevent the infliction of punishment prior to conviction.

…Unless this right to bail before trial is preserved, the presumption of innocence, secured only after centuries of struggle, would lose its meaning."
A Colorado Judge May, But Is Not Required To, Deny Bond In Colorado Probation Violation Cases
The Law:
After a Colorado Defendant pleads guilty to a deferred judgment Colorado's bail bond statute views that plea of guilty as "a conviction." The word "conviction" means the establishment of guilt by a trial verdict OR a guilty plea before sentence or judgment.
Because of this interpretation, the revocation in Colorado of probation or of a deferred judgment…
"…is not part of a criminal prosecution and constitutes only a reconsideration of the original sentence."
The purpose of probation revocation proceedings is not "to punish a defendant for a new crime." Instead, their purpose is to "ascertain an appropriate sentence for an offense of which defendant has already been convicted and for which probation was granted."
The "concern" in a Colorado probation revocation hearing "is whether the alternatives to incarceration which have been made available to a defendant remain viable."
Colorado now tracks states such as Alaska, Florida, and Texas that have held that probationers do not have a right to bond in probation revocation proceedings.
While a Colorado Trial Judge need not set bond in a Colorado probation violation case, a person finding themselves in this situation may be admitted to bail by the Court in the exercise of its discretion.
Some Reasons (Law) To Use To Persuade A Judge To Set Bond In A Colorado Probation Violation Case
While the majority opinion in People v. Johnson held as described above, the minority- or dissenting opinion made some valid and important points. In bullet fashion – what follows is some helpful law:
A probationer has a "conditional liberty interest" in a probation violation case and he cannot be deprived of that interest without due process.
Because a probation revocation may cause probationers or parolees to be placed into a more restrictive confinement, thereby impinging upon a liberty interest…. "they may not be deprived of that liberty without due process."
Before the court may reconsider the initial sentence to probation, it must first find that the government has met its burden to prove that the probationer committed the violations alleged in the petition.
Only then may the court modify the sentence and impose a more restrictive punishment.
The Dissenting Judge rightfully points out that the revocation of a Defendant's probation requires a two step process:
1. A Judge must find that a Defendant violated the conditions of his or her probation. .
and
2. If there has been a violation of probation – should that Judge revoke probation and sentence the Defendant for that revocation and then resentence that Defendant?
Unlike the person who has been convicted after a plea or a jury verdict, the loss of probation, which follows after a person is granted probation at sentencing requires the State to carry it's burden and prove the accusations for the revocation of probation..
Only then can a Defendant on probation be "re-sentenced." Therefore, a Defendant advised on a Motion to Revoke Probation should have the right to post bail for "bailable" Colorado crimes.
Colorado Criminal Law – Setting Bail – Bonds In Probation Revocation Cases
If you found any of the information I have provided on this web page article helpful please click my Plus+1 or the Share buttons for Twitter and Facebook below so that others may also find it.
The reader is admonished that Colorado criminal law, like criminal law in every state and at the Federal level, changes constantly. The article appearing above was accurate at the time it was drafted but it cannot account for changes occurring after it was uploaded.
If, after reading this article, you have questions about your case and would like to consider retaining our law firm, we invite you to contact us at the Steinberg Colorado Criminal Defense Law Firm – 303-627-7777.
Never stop fighting – never stop believing in yourself and your right to due process of law. You will not be alone in court, H. Michael will be at your side every step of the way – advocating for justice and the best possible result in your case. H. Michael Steinberg is passionate about criminal defense. His extensive knowledge and experience of Colorado Criminal Law gives him the edge you need to properly handle your case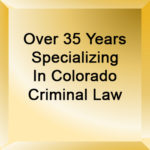 ABOUT THE AUTHOR: H. Michael Steinberg – Email The Author at:
A Denver Colorado Criminal Defense Lawyer – or call his office at 303-627-7777 during business hours – or call his cell if you cannot wait and need his immediate assistance – please call 720-220-2277.
"A good criminal defense lawyer is someone who devotes themselves to their client's case from beginning to end, always realizing that this case is the most important thing in that client's life."
You should be careful to make a responsible choice in selecting a Colorado Criminal Defense Lawyer. We encourage you to "vet" our firm. Over the last 35 plus years – by focusing ONLY on Colorado criminal law – H. Michael has had the necessary time to commit to the task of constantly updating himself on nearly every area of criminal law, to include Colorado criminal law and procedure and trial and courtroom practice.
Putting more than 35 years of Colorado criminal defense experience to work for you.
H. Michael works hard to get his clients the best possible results in and out of the courtroom. He has written, and continues to write, extensively on Colorado criminal law and he hopes this article helps you in some small way – Colorado Criminal Law – Setting Bail – Bonds In Probation Revocation Cases.
Summary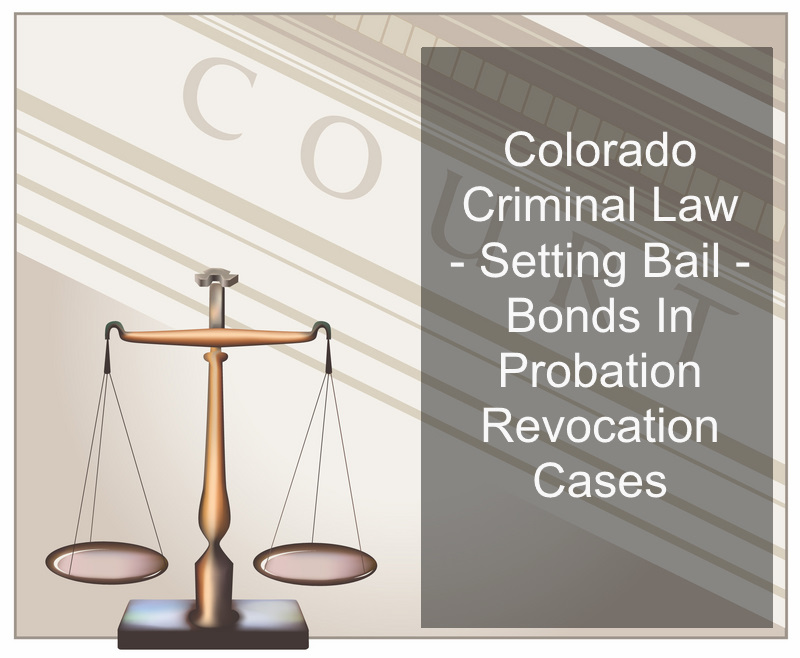 Article Name
Colorado Criminal Law - Setting Bail - Bonds In Probation Revocation Cases
Description
After a recent Colorado Court of Appeals case, the message to Colorado Judges is this - you now have the right to deny bail after an arrest for a violation of probation.
Author